Getting ready to wear cufflinks is like a journey from being a school boy to becoming a man. Cufflinks not only add a formal look to your attire, but prepare you for a much important occasion that calls for dignity, elegance and style.
What Are Cufflinks?
Cufflinks are the pretty looking fasteners that are an essential part of men's jewellery or a fashion accessory used for fastening shirt cuffs. Although these are not sewn to the shirt like the buttons, but these are a stylish alternative to the shirt sleeve buttons. A cufflink fastens a shirt by sliding through the holes on either side of the cuff opening and then swinging into a locked or fixed position to hold the sides together. There is a straight post descending of the cufflink from the underside of the head.
When to Wear Cufflinks?
Formal event calls for French cuffs and cufflinks. Usually French cuffs are not something that can be worn every day, unless you live an utterly formal life or your business or profession calls for absolutely professional look every day of the week. There are expensive as well as cheap wedding cufflinks available in the market. French cuffs should only be worn with suit jackets for the formal occasions. There are no exceptions to the fact that French cuffs should always be secured with cufflinks and accompanied with a tie. A careless formal look with recklessly unfastened French cuffs looks messy and gives the impression that you either don't care how you look or simply don't know how to wear a double cuff shirt properly.
Types of Cufflinks
Just like the buttons of a shirt, the cufflinks also come in many shapes, sizes, styles, and materials but these are considered as an ornamental option meant for formal occasion. The cuffs should always be fastened in a position that they form a sort of teardrop shape around the wrist and not rolled into a barrel shape like normal cuffs. There is huge variety in cufflinks based on the material used, designs and closing mechanism.
Whale tail cufflinks
A whale back cufflink is the most common flat head cufflink with a whale tail.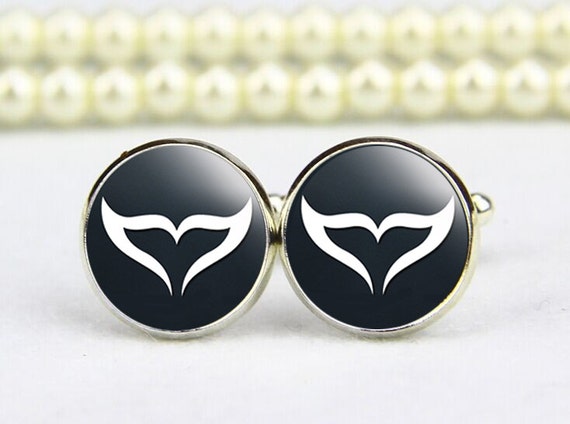 Bullet back cufflinks
This type of cufflink differs only in the hollow frame, making the closing mechanism a narrow cylinder.
Button-style cufflinks
Commonly known as studs or button style cufflinks, these are the simplest of all types as the have no hinge mechanism but a large head.
Chain link cufflinks
These cufflinks have two identical heads connected with a short length fine chain.
There are cufflinks with metal watch band like mechanism as well. Knot cufflinks are also linked by chains but not a metallic chain; it is a soft cord like silk. Fabric cufflinks are more casual in style, having a fabric button on the main face.
Cufflinks can deploy different type of materials in one cufflink or an entire cufflink of the same substance. There is a huge range of materials which can be used; these are from carbon fibre to platinum. Crystals and pearls of different shapes and sizes are often used. Precious stones like diamonds, rubies and emeralds are also used in cufflink depicting a lot of things about the personality. Enamel and glass are also few options to pick from. The most masculine and contemporary cufflink are of cooper and zinc usually termed as gunmetal cufflink.
So go ahead and choose a cufflink that suits you and adds class to your personality.